I'm hoping I can reminisce on more titles I buy in the future, but honestly I just don't remember playing some of these games. Maybe I did, maybe I didn't. Maybe these games scarred me so profoundly because they were so bad, I just sealed that section of my brain away so I wouldn't have to relive those horrible memories. Or maybe I just never owned the game in the first place so I never played it. Or I just don't remember.
But this last weekend I picked up a few games, two of which I definitely remember experiencing in my childhood.
Let's start off with what is said to be one of the worst games ever created, and also rumored to have brought about the eventual bankruptcy of ATARI – oh yes, you know what I am talking about….
(I wonder if Spielberg realized his alien looked like a penis)
Ahh, E.T. – the extra-terrestial. That loveable little alien who ate reeses pieces and screamed like a banshee when drew barrymore opens the closet door. He looked freaky as hell when he was all pasty white in the ice box, but he also looks downright pathetic in the Atari game.
If I remember one thing about the E.T. game, besides hearing that all the left over cartridges were buried in some landfill in new mexico (true story look it up on the wiki..everythings true on wiki : ET WIKI), is that I never knew what the fuck I was supposed to do in this game. I loved E.T. the movie, so of course the game had to be awesome too. But no it wasn't. Like any typical game adaptation of a movie, it was horrendous. I don't even want to speak about this game anymore – just thinking about it makes me want to break my atari all over again (yes I admit I broke my original atari).
(I just don't get it)
So lets talk about some better games – now I'm talking games that just enhanced my love for gaming at a young age. Now unfortunately I don't remember playing Sonic 2, or Sonic vs Knuckles, and I'm not going to talk about Ms. Pacman, because hell, its just pacman on genesis. But I do want to touch upon the originalSonic the Hedgehog.
(just look at that smug look slapped across that face)
Now this game was pure "awesome" – if there's one thing I remember about this game, was the fact that I was pissed as all hell that I never owned it. In fact, I never even owned a genesis when I was growing up. The jealousy raged inside me every time I went to a friends house and they had all these cool games for their genesis such as ECO the dolphin, Jurassic park (shutup it was awesome), and of course Sonic.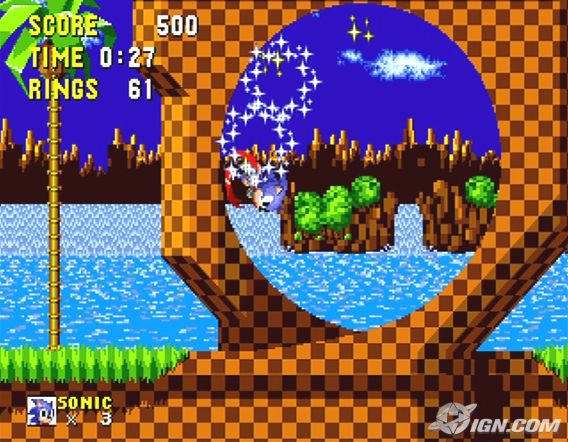 (seriously – how cool was that)
Sonic brings back some fond memories of my childhood, as it brings up the times that my family would go to a long time friends house for dinner every other month or so. Now for me, these nights were always a blast and I loved hanging out with them and their dog Brady. But the thing that really sticks out in my mind, was building up the courage to ask their kids, if I can play their Sega Genesis. Now they weren't much older than me mind you, but at that time if you were nine and the other kids were twelve, you were worlds apart.
Of course they didn't mind, and after dinner while the parents would talk, I would sneak away with one of the brothers and stare at their TV screen as we played Sonic for the rest of the night. Occassionally another game caught our interest – sometimes it was a madden, or other times it was altered beast, but I always returned to Sonic. The funny thing is though, out of all the times I went to their house, and stole gaming time away from them, I don't think I ever got past the first few levels of Sonic. I just had too much fun zooming across the board, collecting coins, and kicking the crap out of Doctor Robotnik.